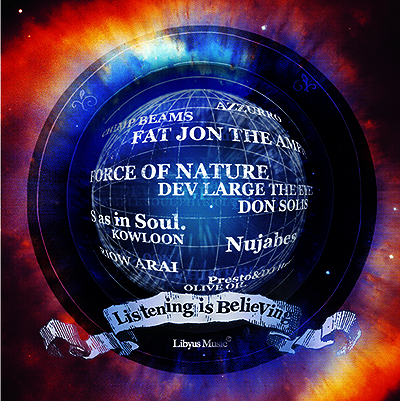 V.A. "Listening is Believing" (LMCD-003)
2004.6.23 on sale. ¥2,625-(TAX IN)
01. S as in Soul. "Intro〜Liberty by us"
02. DEV LARGE THE EYEINHITAE "Trans Tokyo Ghetto Funk Express〜Nastyest M.F.'s Experimental Soul Drum Break Mix"
03. Chimp Beams "Calm"
04. RIOW ARAI "Break Infection"
05. FORCE OF NATURE "Noon Affair"
06. Nujabes "Other Side of Phrase"
07. Kowloon "Different Perspectives"
08. S as in Soul. "Swan Dive"
09. Presto feat.DJ Haul "On This Vibe"
10. Don Solis "Chasing Charm"
11. Olive Oil "Love Elnino"
12. FORCE OF NATURE "Just Landed"
13. Azzurro "Solaris"
14. FORCE OF NATURE "Relaxed Pieces"
15. FAT JON THE AMPLE SOUL PHYSICIAN "Lost in space"